Make sure to get to the airport a little early if you get the chance to visit KAL's First Class Lounge at ICN in Terminal 2.
The Space
The lounge has a pretty large entrance area that felt like wasted space, but looked nice. There was also a cool model of a Korean Air 747 just past the desk.
My first impression was that the inside of the lounge actually felt a little small. It's basically composed of all of these little seating pods with privacy dividers. It sort of felt like fancy cubicles to me initially and the layout of the pods seems a bit random, but it grew on me while we stayed there. The pods do give a bit more privacy than the standard airport lounge which was nice, and there seemed to be more than enough for the capacity of the lounge while I was there.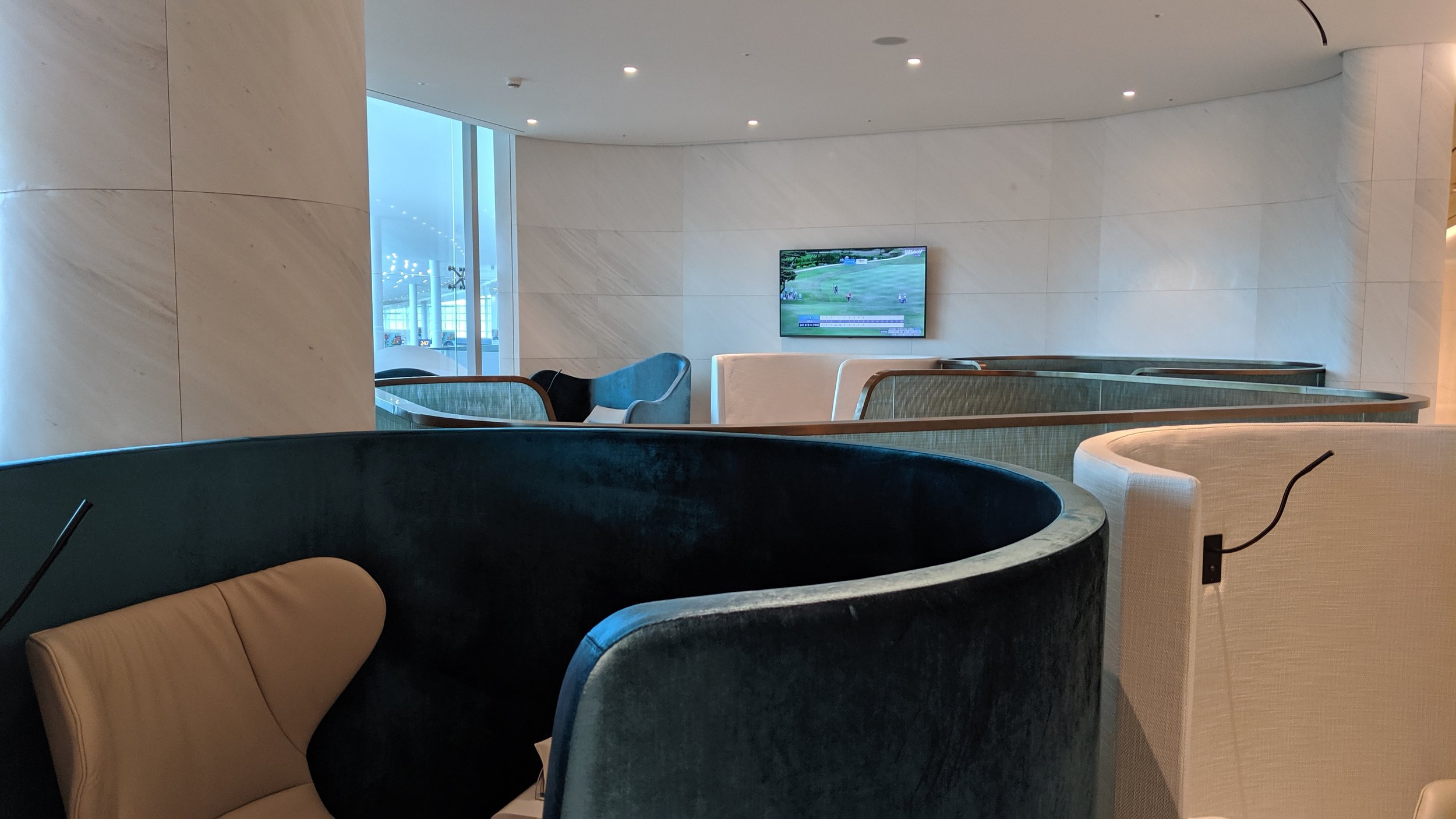 There were actually a few different styles of pods to choose from. Some were more chaise lounge like and faced out towards the airport, while others were more relaxed chair and nice for relaxing by yourself or with a small group. There was also a set of tables for dining near the buffet that are probably also the best place to work from if you'll be working for any extended period of time. All the pods seemed to have international power plugs and a charging USB port.
Probably my biggest complaint, though, is that the bathrooms were basically a single stall for each gender. We were here for a couple of hours and both of us had times where we went to use the restroom and it was already occupied. It's not a big deal, just felt odd given how even just 2 "facilities" per gender would've solved the problem. However, the bathroom itself was very nice and cleaned very frequently.
This was probably the most interesting part of the lounge. It was a separate room without a sign or anything and inside was this way over the top massage chair and some kind of hydrating mask or something that kind of looked creepy to me. I didn't end up trying either one because I found them kind of late and wasn't sure what the mask really did, but kind of an interesting surprise.
There were also a bunch of lockers near the entrance if you wanted to store stuff, which seemed nicer than the usual closet I often see in lounges for short term storage of your extra bags.
The Food
We had several hours to kill at the lounge, so we were lucky enough to get a little bit of a taste of both the breakfast options and the lunch options.
To start, when we first sat down we were greeted by the staff who brought along an iPad-like device with an interactive menu to place an a la carte order for breakfast. It mainly consisted of a variety of egg options and allowed you to pick your sides (bacon, chicken sausage, mushrooms, hash browns, tomatoes, etc). I chose the scrambled eggs and the Mrs. chose to go with 2 fried eggs.
There was also an extensive breakfast buffet available. There were quite a few choices and everything I tried was pretty good. It was nice to have a bit of a variety to supplement the a la carte options if you wanted something else.
A few hours later they swapped out some of the items for lunch.
All in all the food was great. Certainly worth skipping airport food to get here instead. The items were in general pretty small and light, but that's usually what I'd prefer while waiting at the airport anyway. The service around the food items was also pretty good and everyone was very helpful and friendly.
The internet was really great. It was a simple WPA2 network with a password available on a little card at the entrance. Once I was on there was no sign on / splash page or anything like that, which is nice. The internet speeds were actually quite good and it made it easy to download some last minute podcasts or videos and backup all my photos online before the flight. It seemed really responsive and low latency as well and should be able to cover whatever your needs are before your flight.
The Showers
They did have showers available for use, but I didn't need to use them so I ended up not reviewing them this time around.
Bottom Line
This lounge definitely grew on me while I stayed here. Initially, it felt small with a bit of an odd layout, but it gives you plenty of privacy and was actually a pretty quiet place to wait for my flight. The food was also quite good and everything was kept stocked and clean. It's certainly not the biggest or most elaborate first class lounge, but it's more than enough to warrant getting to the airport a little early to enjoy.
Disclaimers
This site is for entertainment purposes only. The owners and authors of this site are not legal or tax professionals nor financial planners, and articles here are of an opinion and general nature and should not be relied upon for individual circumstances.

Some links on this page may contain an affilaite code and earn an affiliate commision. This does not impact our review and / or placement of any products.