The Hilton Dead Sea Resort & Spa was a mostly great resort. The service was overall pretty good and friendly. The rooms are relatively big, new, and comfortable. There's plenty of food on the premises and most of it is pretty good (although rather expensive). There's also plenty of security and all the amenities you need to have a great stay. There are some maintenance issues and they're a little extra concerning given it's relatively new, though. The location is good, but the beach is simple and less than amazing.
tl;dr: The hotel is great for a stay at the Dead Sea if you're not going primarily for an amazing beach. It's a little expensive for Jordan, but not too terrible overall. At the time of this writing the property can be redeemed for 34,000 Hilton points per night. See TripAdvisor Reviews.
The Hotel
The Hilton Dead Sea Resort & Spa is a relatively new hotel right along the Dead Sea. It's right along the sea and also has a convention center on property as well.
The hotel grounds were pretty nice overall. There were several different pools, plenty of poolside seating, and a pool bar. There was also a separate "Kid Zone" with a kid friendly pool and several other items for children.
There was also a beach area with mud bins, fresh water showers, chairs, bathrooms, and a small bar / restaurant.
But the beach had a relatively small area to actually access the Dead Sea and much of it was rocky.
The Room
We ended up getting upgraded to a King Suite, which was great. It was huge and had tons of natural light with how open the overall design was.
This is the giant closet area on the left. It had more storage than you'd ever need on vacation and was big enough it was easy to get access to everything.
The living room was nice and had plenty of comfortable seats. It also had a TV that could swivel around to be watched from the living room or the bedroom. My biggest complaint would have to be that there wasn't really a desk or great work surface. I ended up using the table where the drinks and coffee machine were, but it wasn't the greatest and was kind of a pain to clear off. Then again, I'm guessing they don't expect most of their guests to be working while they're here, so … ya know.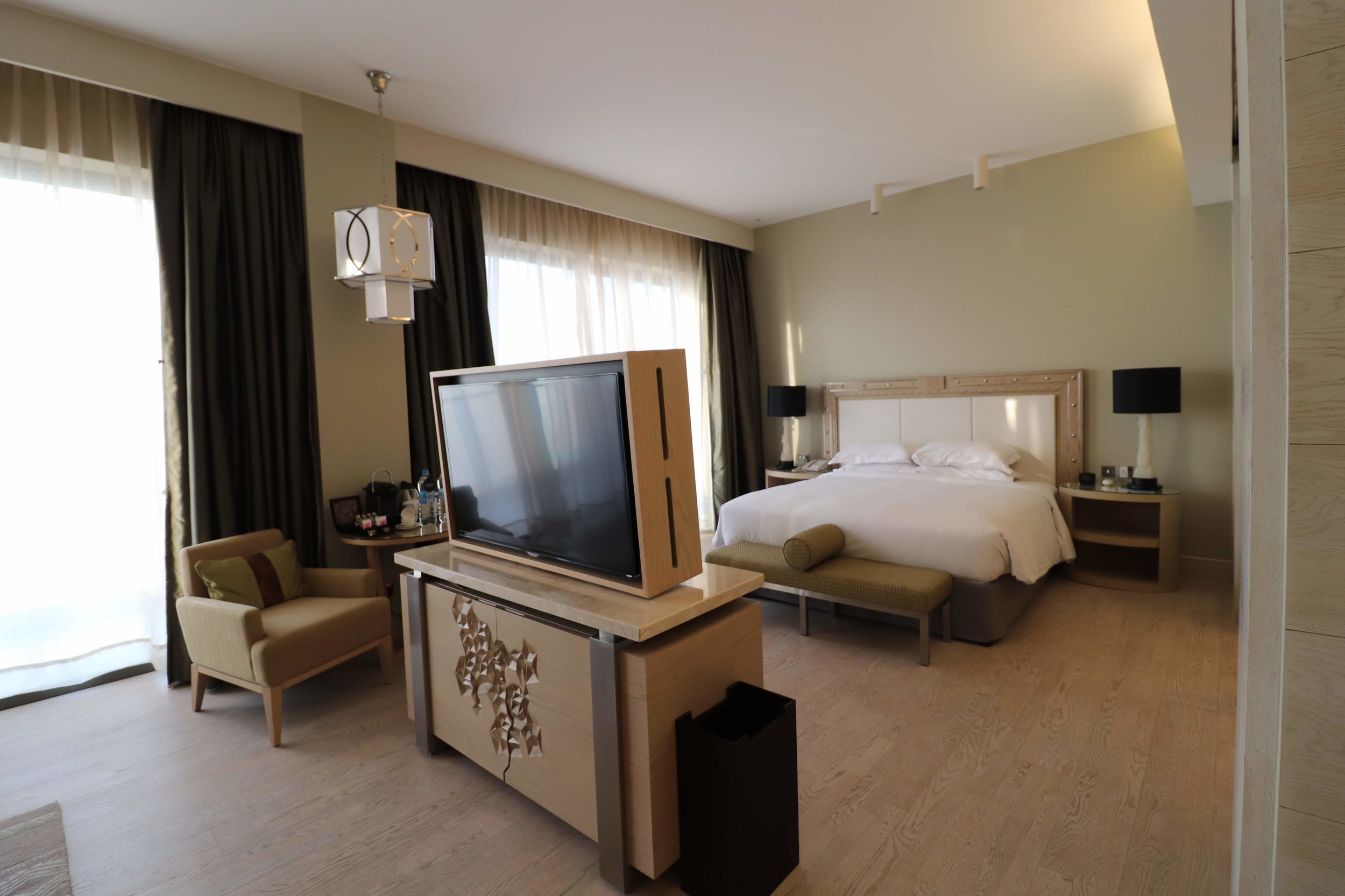 The bedroom was also nice, and really just an extension of the living room area. I really love when we get upgraded to suites, but sometimes it's extra nice when there is a closing door between the bedroom and living room areas so that if I wake up early I can go work in the living room area without disturbing the sleeping wife. But all things considered this room was big and very comfortable.
The bathroom was nice too. I kind of liked the sinks being on opposite sides as it felt like they had a lot more room. The bathroom overall was very open and got tons of light as well.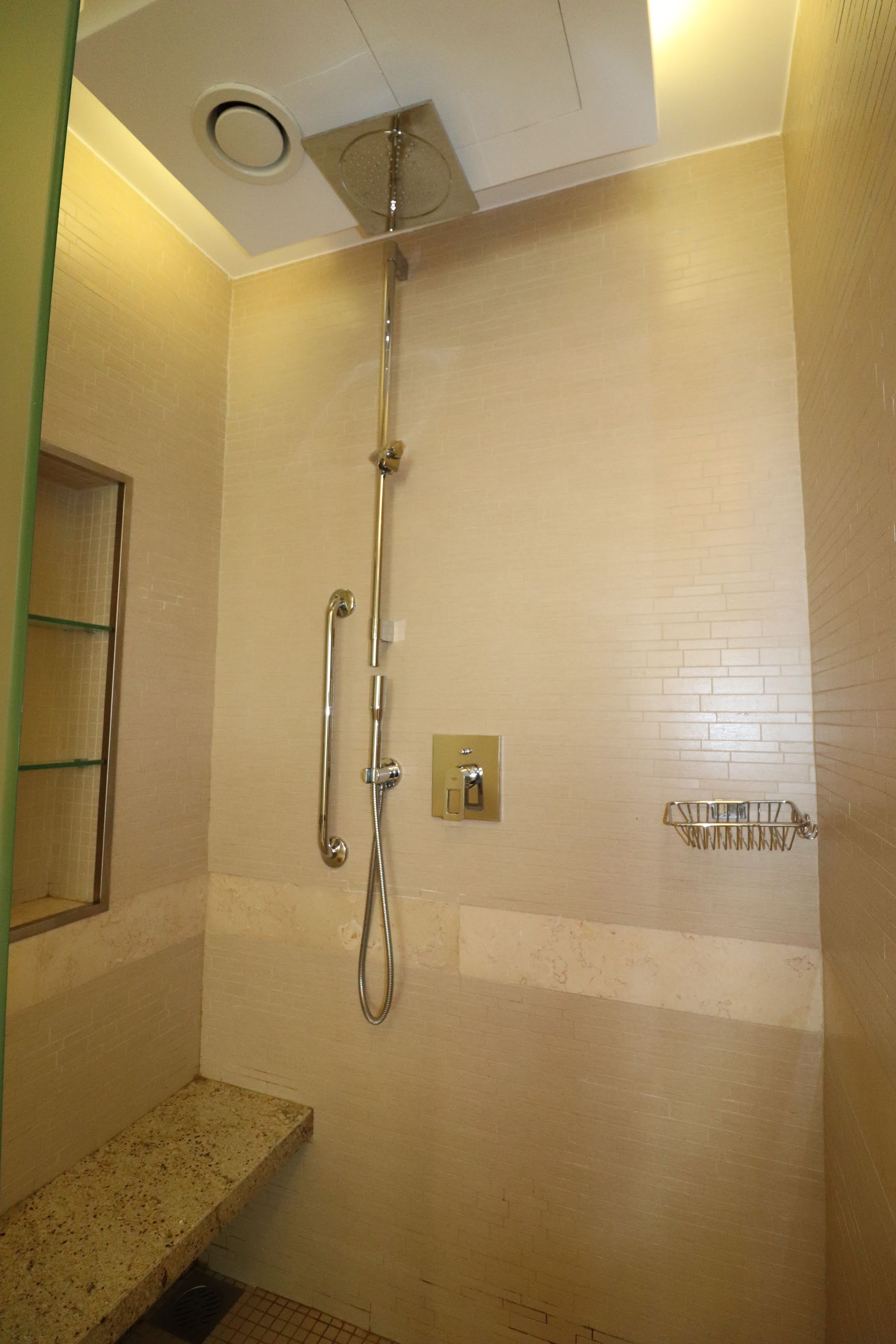 I did have one major source of frustration, though, which was the shower. It was just all around not great. The tray for soaps was broken and would fall off at the slightest bump. The water pressure was terrible and the temperature at times inconsistent.
However, the biggest issue was the poor door design. I don't know if you can see it easily in the picture, but on the left side when it goes from marble to tile that is a raised bar, however the door closes with a gap in front of it. So essentially all the water that goes over that bar or hits the door during your shower pools up behind the raised bar and eventually spills out of the shower and pools up on the floor outside. It's just the craziest shower door design I've ever seen and really makes no sense.
The patio area was great, though. Plenty of room and great views of the resort, the beach, and the Dead Sea.
All in all this room was great. Very big, comfortable, plenty of natural light, and had everything we needed for a comfortable stay.
The Food
Let me just start by saying that you will not go hungry during your stay. There was quite a wide variety of food with 3 different onsite restaurants, food in the Executive Lounge, room service, and a beach and pool bar. There was a pretty varied menu with Spectrum, which was mainly international food and a buffet, Bacchus, Italian food, and 1312 which had Lebanese food. During our stay we got a chance to try all of them and the food was quite good across the board. It was all a bit expensive, though, so plan on that ahead of time or consider supplementing with some of your own food or at some of the slightly cheaper restaurants at the mall nearby. One other minor note, is that there were signs that no outside food or beverages would be allowed, but we had both with us and didn't run into any problems. Your mileage may vary, though.
So let's start with the breakfast, which was included in our stay with our Hilton Diamond status.
The quality of the food at breakfast was a little hit or miss, but had so many options we always found something good to eat. It definitely seems to strive for quantity over quality if it has to pick, though. But for a "free" breakfast it was really great and totally kept us satisfied.
We also tried the Italian place, Bacchus. This place actually surprised me at how good it was. I didn't have high expectations, and it's not going to win any food awards for Italian food, but it was much better than I would have expected from a random resort in the middle east. The service was also particularly impressive. Overall we really liked our dinner here, but I will warn you it' is QUITE expensive. We ended up paying just shy of $100 USD for a dinner for two (appetizer, 2 entrees, and a dessert - no alcohol). Consider it a good splurge option, though.
We also tried the 1312 lounge / restaurant. It's a bit of a bar / smoker's lounge and a bit of a restaurant serving Lebanese food. I'm totally unqualified to speak to the quality of Lebanese food, but we enjoyed our dishes and found the food to be good and the service very attentive. It's more reasonably priced than the Italian food, but nothing is really reasonably priced here (which is my one real complaint about the food).
Overall the food was good, but pricey. The room service was pretty solid and had a wide enough menu you should be able to find something on it. Compared to the restaurants the room service actually felt cheap.
One other option for food is to go to the mall nearby. It's about a 5 minute walk to the left on the main road. There were a handful of different restaurants over there. We didn't end up eating there ourselves, so I can't speak to the quality, but I took a few photos of some of the menus to give you an idea of the food and the rough prices. I'd guess something like 60 - 70% of the cost of the food at the hotel.
In short, you won't go hungry, but you might break the bank a little.
The Amenities
The hotel also has an executive lounge. We ended up getting access from our Diamond status, but you can also get it by upgrading your room. There were food and drinks available, plenty of seating, and a small business center with computers and a printer. There wasn't anything particularly special, but it was reasonably nice and very quiet while we were there.
The fitness center was pretty nice too. Plenty of natural light, nice views of the Dead Sea, and plenty of equipment. It was also pretty quiet the whole time we were there. The one thing it was missing was water bottles.
The Location
The area where the hotel is all seemed quite new. I get the impression there is a lot of recent development in the area. There is a small mall with a grocery store and a few restaurants about a 5 minute walk away. Other than that there really wasn't a lot nearby. The hotels location along the sea means there isn't really a lot of beach, but it's still enough to get a chance to experience the Dead Sea and some of it's fun properties.
The Internet
I worked from this hotel for a while too. Overall the internet was reasonably fast for video streaming or phone calls and worked pretty well. We did run into an annoying (unpublished) device limit, though. After a couple devices (maybe 4?) we would start kicking off a random device when we added a new one. This was a little annoying but overall manageable.
The Service
The service here was overall pretty good. The check in process was smooth and everyone was friendly. Our dinner at Bacchas was surprisingly attentive service and very nice. House keeping kept the room clean and overall things were good. The staff at breakfast was also quite good and remembered us by name by the 2nd or 3rd day. The room service and our other meal at 1312 also were good. The only negatives I would mention at all is the chef at the egg station had trouble getting our order right and the staff by the beach were a little mixed.
Bottom Line
Overall the experience at the Hilton Dead Sea Resort & Spa was great. The hotel has everything you need for a comfortable stay, friendly staff, and good food. It's a bit expensive for what you get and there are definitely some signs of more wear and tear than I'd expect for a new hotel. I'm worried it won't stay nice, but for now it's all in all a great place to stay for a short visit to the Dead Sea.
Disclaimers
This site is for entertainment purposes only. The owners and authors of this site are not legal or tax professionals nor financial planners, and articles here are of an opinion and general nature and should not be relied upon for individual circumstances.

Some links on this page may contain an affilaite code and earn an affiliate commision. This does not impact our review and / or placement of any products.