The Marriott Jeju Shinhwa World is a great hotel right next to Jeju Shinhwa World theme parks. If you're looking for a comfortable hotel with great service you won't go wrong here. Overall we really loved it. The service is amazing, the rooms are new, large, and comfy, and the food was fantastic. There isn't a great place to work in the rooms and the gym was pretty minimal, but these are minor inconveniences that won't affect everyone.
tl;dr: The hotel is pretty amazing if the location works for you. It seems like it's a brand new property and has a ton to offer nearby. It can be booked with Marriott points (50,000) if you're looking to do a redemption. See TripAdvisor Reviews.
The Hotel
The hotel seems to be pretty new and is part of a larger complex right next to the Jeju Shinhwa World theme parks. It's really a beautiful property with TONS of stuff in and around it. There is a casino, several restaurants (both directly on property and in the adjacent shopping complex), and much more. It was still under construction when we visited so a few things like the pool and some of the extra rooms weren't totally finished during our trip.
I'm not sure if it was just when we were visiting or because some of the property wasn't fully finished yet and it's too new, but in general it was pretty quiet and empty while we were here. We often didn't see anyone else in the lobby or hallways while we were going around the hotel and many of the shops and restaurants were pretty empty as well. It worked out great for us, but just something interesting to note.
The Room
As Marriott Ambassador Elites we were lucky enough to get upgraded to a King Suite during our stay. The room was really great and gave us tons of space to sprawl out during our stay here. There was a ton of natural light, a great balcony, 2 tv's with integrated sound systems, and lots of other great amenities to enjoy in the rooms.
One odd thing with the TV / sound system though is that when we hooked up our Fire TV Stick the audio wasn't working correctly. We swung the TV out and unplugged the sound cable and plugged it back in and all was well, but a little odd. It's also worth noting that the rooms were pretty well insulated. We rarely heard anyone else and even the construction that was going on while we were there wasn't too loud (relatively).
The bedroom was also large and had another TV in it as well. There was an additional balcony area off the bedroom and it had much of the same natural light and power curtains that the living room did. The bed was very comfortable and there were plenty of outlets to make sure we had plugs wherever we might need them (both sides of the bed, near the TV, etc). They were even the international plugs so no adapter required!
The bathroom was huge and had tons of space for us to get ready at the same time including our own sinks. Heck, we basically had our own bathrooms it was so big!
The shower was also really great. Good water pressure, steady temperatures with a good range, and a removable shower head. It was in the more Japanese style where the shower and the bathtub are in a separate room together, but I actually liked the layout of this one being end-to-end more than many others we've seen that are side-to-side. It seemed less like showering in a giant room somehow. The shower also had a TV at the end of the bathtub, though it was a little small and quiet to use in the shower I'm sure it'd be great if you're soaking in the tub. And the shower even had a steam option to have a little wet sauna in the room which was nice.
The toilet was one of the super fancy Japanese toilets with power and heated seats, lights, separate controls, and all the other fancy bits you'd expect. I really like these except that there isn't an easy switch to turn off the heated seat on this particular unit and sometimes it's just a little too toasty.
The provided soaps were actually pretty nice, too, and we ended up using them while we were here.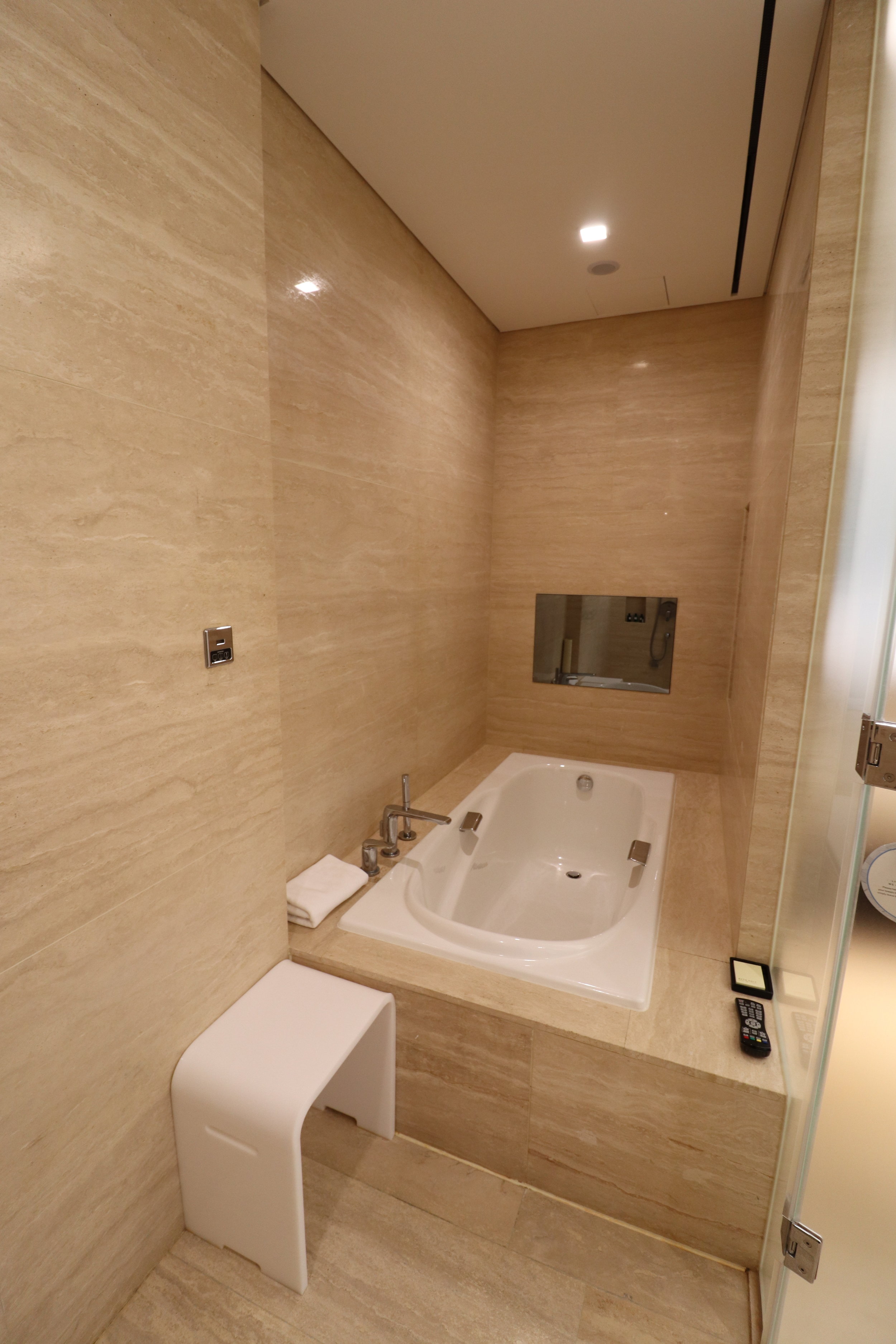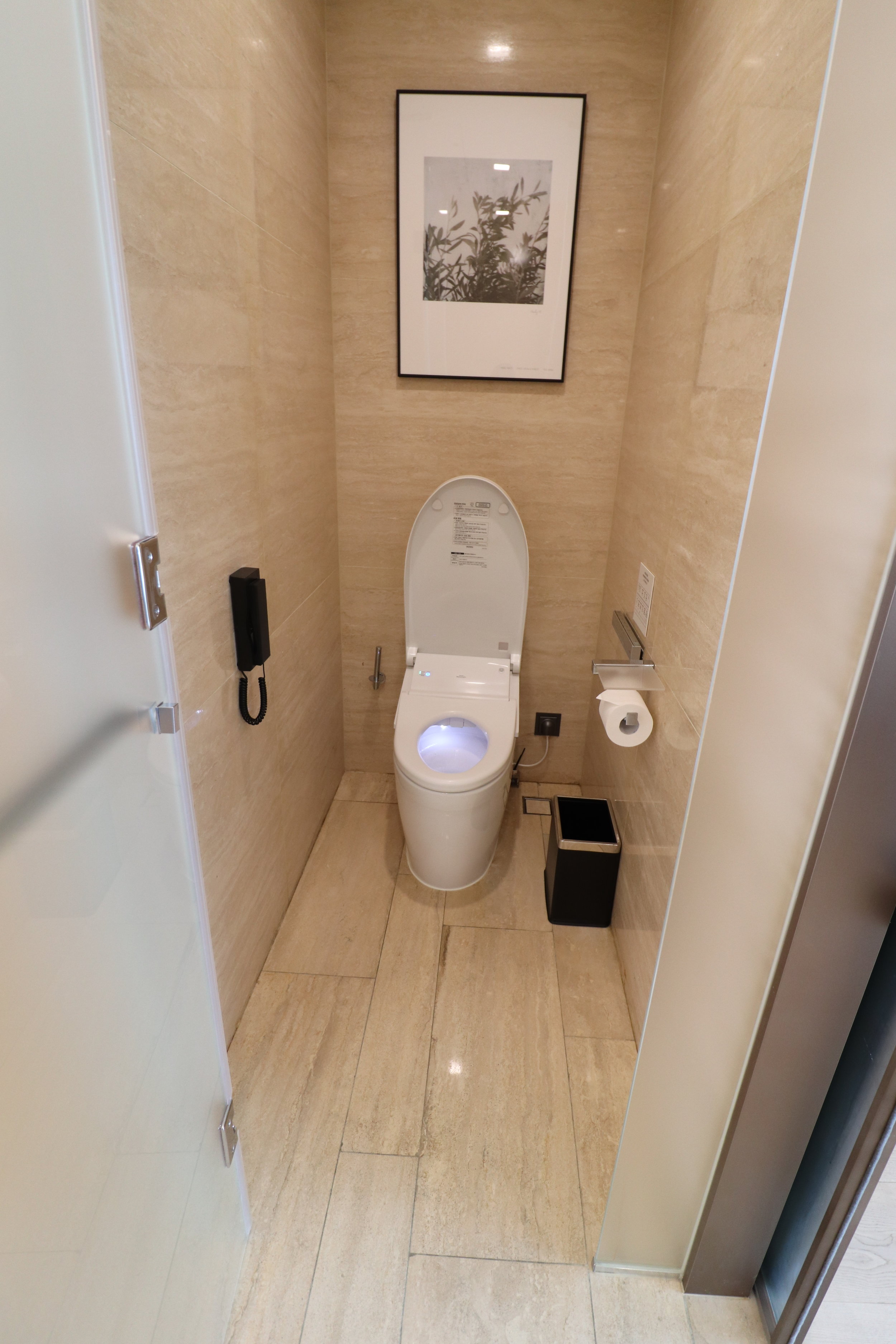 The one thing that the room was missing was a good desk to work from. This made working here a little bit challenging, but I admit I'm the weird one who comes to a resort on Jeju Island next to a theme park to work. In the end, I ended up using the vanity in the walk-in closet to work. It had a desk-like surface, outlets, and great lighting for my video calls. The only real challenge with it was that the room had a little bit of an echo and the "desk" was a little too short for me to sit at with my knees under it. It worked well enough for a couple days, but it definitely wasn't ideal.
Overall the giant walk-in closet was great, though, with tons of space to spread out if you do that sort of thing. This was all in addition to all the closet space next to the entrance.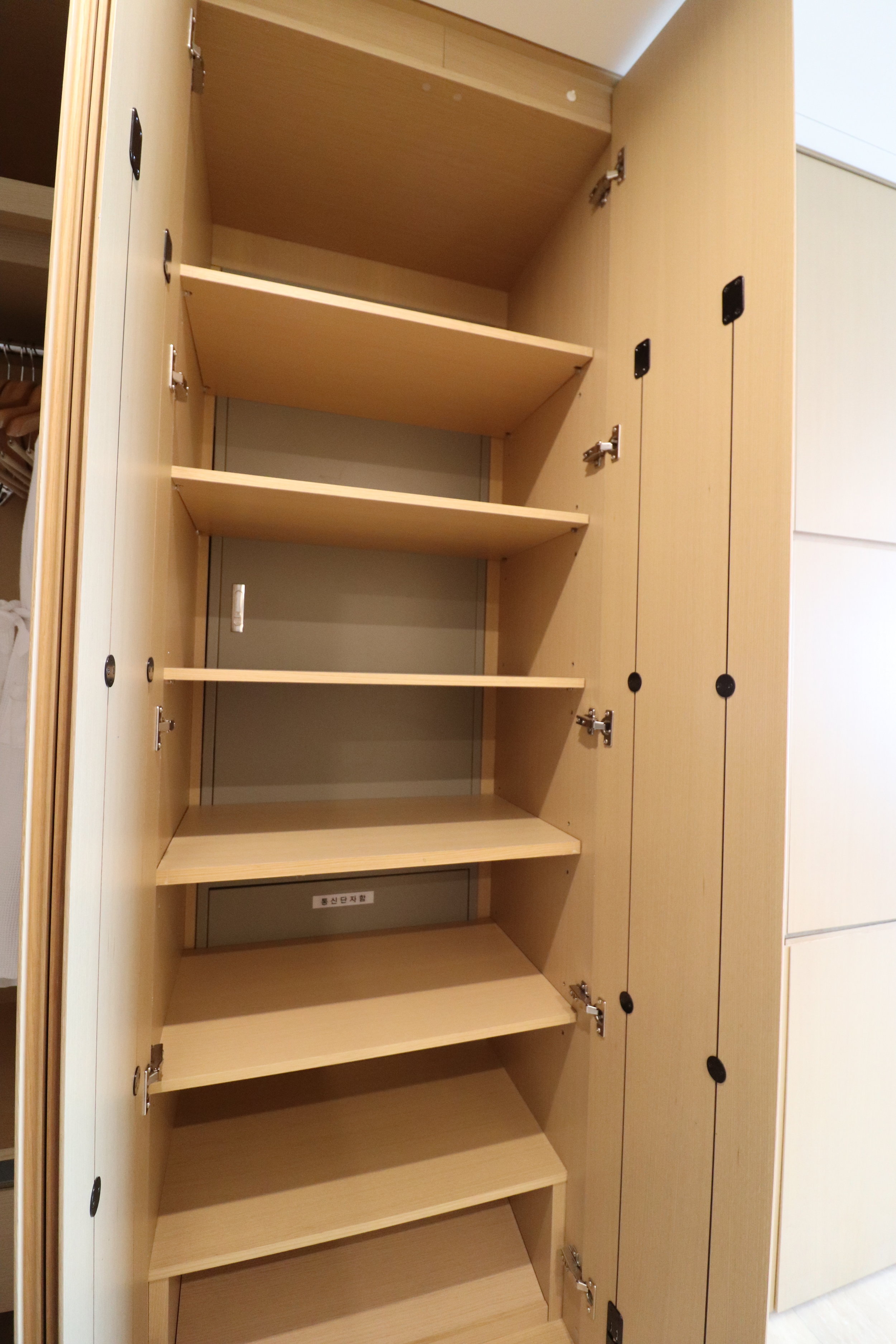 One other notable thing about the room is that the minibar contents were included in the room. I love it when hotels do this! The minibar is convenient if you want a little something but they normally nickel and dime you so much it just doesn't make sense. So, when I get it included, it feels it is such an extra perk. I probably value it way more than the cost of the coke or water I drink actually costs. I admit this isn't rational, but it's just the way it is for me. Any-who, the way it worked is we got the entire contents of the minibar free each day. If you wanted anything refilled more than once a day you'd have to pay for the refill. In practice, though, it had so much stuff I don't think you'd ever need to do that.
The Mrs. and I aren't really drinkers, so we asked if we could swap the alcohol in the room for some extra sodas and man did they take that to heart. They ended up collecting the 8 beers and brought us an extra 8 cokes to replace them! We had far more than we could ever expect to drink and the craziest part is that each day when they restocked the minibar, they refilled the full suite of sodas. It was really great, actually, and it was nice to not feel like they were being stingy with us.
The Food
As a Marriott Ambassador Elite at check in we got the option of a welcome gift, 1000 points, or breakfast for 2 each day of our stay. We went with the breakfast (I'm pretty sure that's always the right answer when presented with this choice unless you know you won't be able to make it to breakfast) and boy am I glad we did. The breakfast here was particularly great. It had a ton of different varieties and the food quality was really great. It's the kind of breakfast you go out of your way to make sure you get for sure.
As you can see, quite impressive. In short, if you have an option to get the breakfast, do it! You won't regret it.
The Amenities
There was no executive lounge at this hotel, but they did include the minibar which I actually preferred.
The gym was definitely the weakest part of the hotel experience, though. It was tiny with very little equipment and was kept super hot and humid (as seems to be the trend in Korea). It also only provided washcloths for towels which I find to be a little too small and didn't have any bottled water available, although there was a water fountain. And unfortunately, no cold towels to be found.
Overall it was perfectly fine and got the job done, it was just a little underwhelming compared to the rest of the hotel.
The Location
The hotel is pretty far out in the middle of nowhere, except that it's right next to Jeju Shinhwa World theme parks and a nearby shopping area with plenty of shops and restaurants. It's basically a big resort complex that will have everything you need during your stay but isn't particularly close to much of the rest of the stuff to do on the island. If you want to go to the theme park it's ideal. If you're just looking for a place to get away and enjoy your vacation it's also great. If you're looking for beach access, you might want to keep looking.
While we were here I ended up working every day. The internet was fabulous the entire time. The wifi didn't require a sign in of any kind and was pretty fast and low latency relatively. No real issues with video calls or internet movie streaming during our stay here. There were also no annoying bumps off the internet every 24 hours or any of those other minor annoyances.
In fact, it was actually the same wifi hotspot throughout the complex so we didn't even lose internet when going into the lobby, the shopping mall section, or out by the theme park.
All in it should work fine for whatever you need while you're there.
The Service
The service here was amazing. From pulling up and checking in, everyone was amazingly nice and helpful. They upgraded our room and were very friendly as well. Housekeeping was extremely thorough and the room was always spotless while we were here. The service at breakfast was extremely attentive and they constantly picked up dishes or helped with things as soon as we'd set the dish aside. They also remembered me every day and how I liked my eggs and managed to cook them perfectly every time.
I also was really impressed that when we told them we didn't drink much alcohol they let us swap them for additional sodas in the minifridge. And then beyond that, they even remembered it every day of our stay and continued to refill with soda instead of alcohol. I know it sounds minor, but there are so few hotels that actually pull something like that off. We also had requested non-feather pillows and a fan before arriving and both were in the room as requested when we got here, which was great.
And lastly, we had called to ask if they had any printouts or list of restaurants that were in the hotel or the nearby complex so we could decide where to eat the next day and they actually came and brought us full physical restaurant menus for everything in the hotel and a couple different pamphlets of information for restaurants nearby and around the island.
I really just felt like they went above and beyond in every way every time we interacted with any of the staff. It was really quite impressive.
Bottom Line
Overall this hotel was amazing. It's a little out of the way if you're not going to Jeju Shinhwa World theme parks, but if you are it's crazy convenient. Even if you're not it has enough food, shopping, and other stuff nearby you won't feel bored or isolated. The hotel is really great, though. We loved our room, breakfast was particularly great, the internet worked fabulously, and the service in particular really went above and beyond. You really won't be disappointed with your stay here.
Disclaimers
This site is for entertainment purposes only. The owners and authors of this site are not legal or tax professionals nor financial planners, and articles here are of an opinion and general nature and should not be relied upon for individual circumstances.

Some links on this page may contain an affilaite code and earn an affiliate commision. This does not impact our review and / or placement of any products.