The Hilton Millennium Seoul is a great hotel right next to Namsan Park. It's got large, modern rooms, plenty of amenities, and everything you need for a great and comfortable stay.
tl;dr: The hotel is great and the location is pretty, but probably far from everything but the park and the train station. The rooms aren't huge, but they're nice and recently renovated. It can be booked with Hilton points (67,000) if you're looking to do a redemption. See TripAdvisor Reviews.
The Hotel
The hotel is big and located right across from Namsan Park. It has a really nice lobby, an attached casino, and several restaurants as well. I think my favorite feature, though, was the views of the park and the N Seoul Tower you got from the higher floors on the east side of the building.
The Room
The room was pretty nice. It had a convenient layout and all the items you'd need or want for your stay. The desk was comfortable and easy to work from. One thing that was a little odd was the room was extremely dark if you had the window closed / at night. There just wasn't really any bright lights in the room and the ceiling lights, in particular, were very focussed and not particularly bright. It might not be an issue for you, but it was hard to do video calls early in the morning with the available lighting. It was also a little warm (like pretty much every room we had in South Korea).
The room also had this handy console for controlling the lights, do not disturb light, A/C and a few other things. And of course, a well stocked mini bar.
The bathroom was a little small for both of us to get ready in the morning, but not small enough to really be a problem. Just a little tight. The shower worked pretty well, though, with plenty of hot water, good water pressure, and a removable shower head. It also had one of the fancy Japanese toilets that are always nice.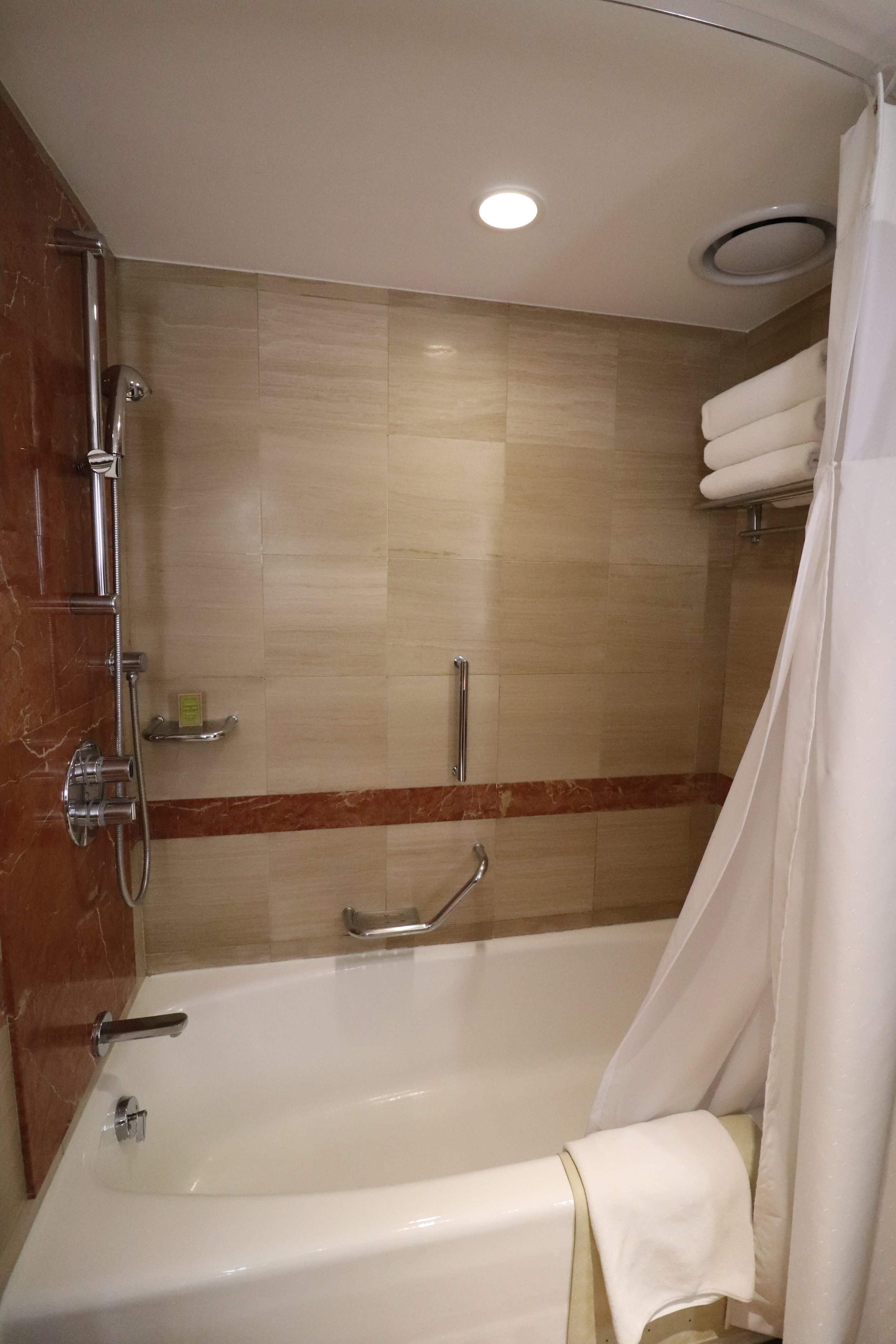 Overall the room was great. The lighting wasn't amazing, but for most people I don't think it'd be an issue.
The Food
As a Hilton Diamond member, we got a complimentary breakfast in the lounge but not at the restaurant. This was the first Hilton I've been to that I can remember that being the case. The lounge breakfast was ok, though. They actually have 2 different executive lounges but they're completely identical so you can just use whichever one is more convenient for you.
Overall the breakfast was pretty good, but not great. It's nice that they had made to order eggs in particular, but generally the quality of the food was just alright. The selection was decent for a lounge breakfast, though, and included plenty of hot plates, fruit, and pastries. Definitely worth a stop, if you get the breakfast for free, but it might not be worth paying for an upgrade for it unless you really need breakfast fast at the hotel.
The Amenities
The lounge was nice and there were actually two different (identical) ones on two different floors. There was a fridge with easy access to sodas and waters and a few snack items left out during the day. It was very quiet while we were in there and had some nice spots to work from if you need to get out of your room for a bit.
The gym was rather good and had lots of equipment. There were tons of machines for both cardio and resistance and I can't imagine this place being totally full. They also had some unexpected stuff like a blood pressure machine, some massage machines, and a few other oddities. All in the gym was pretty nice. The one thing I noticed it missing was free bottled water (they did have some fancy ones to pay for and a water cooler to fill your own). It's all ok, though, because they also had cold towels!
The Location
The hotel is really close to Namsan Park. It actually has great views of the park and Seoul Tower if you end up on the correct side. It is also really close to Seoul station which is a big train / subway intersection. This can be very convenient if you need to travel outside the city for day trips or anything while you're there. The neighborhood itself is set on a hill, so expect to do a little uphill walking, including returning from the train station, if you're around. There isn't a ton of food right nearby (though the burger place across the street is actually pretty tasty), but you're still a short subway ride or about a 15 minute walk away from plenty of stuff.
The Internet
I worked quite a bit while we were there and the internet was pretty solid. No real trouble with video calls or streaming video. The internet speed was pretty consistent and overall good. There was a weird prompt that came up every 12 to 24 hours where you had to renew your session, but you didn't have to do the full song and dance with your name and the room number other than the very first time you sign in.
The Service
Overall the service was good. It was ridiculously fast on the very first day we got there. We asked for a few extra pillows and I think it was about 30 seconds after we hung up the phone that we got a knock on the door and they were there. The room was also well cleaned and we had every need cared for. We also asked the lounge receptionist for some recommendations on food and she really went above and beyond. She looked up a place, called to check if we'd need a reservation when we were planning to go, printed out a map of where to go, and then walked us to a window and showed us which direction it was and then talked through how to get there on the map. It was really much more than I could've expected.
Check in and check out were totally smooth and fast. They were very helpful with getting a taxi and telling the driver where we wanted to go in Korean. The doormen were also especially friendly and went out of their way to greet us everyday and welcome us back. All in the service really was exceptional here.
Bottom Line
Overall this hotel was great. The rooms were good, the service and internet were great, and the lounge, gym, and other amenities were pretty nice as well. The only complaint I might have is the location is convenient for the park, but sort of far from everything else. If you're looking for a place for day trips on the train or just want to spend a night or two here to go to the park and N Seoul Tower, this place is perfect. For everything else it might be a little out of the way, but still amazing.
Disclaimers
This site is for entertainment purposes only. The owners and authors of this site are not legal or tax professionals nor financial planners, and articles here are of an opinion and general nature and should not be relied upon for individual circumstances.

Some links on this page may contain an affilaite code and earn an affiliate commision. This does not impact our review and / or placement of any products.